Every year, business owners plan to do better than the year before. When competing in the overpopulated digital marketplace, local SEO (search engine optimization) plays a key role in your marketing strategy. While some local search ranking factors remain constant and even overlap with conventional SEO, Google's algorithms are constantly evolving. You have to keep up, or you will fall behind in local search rankings. Although you may have been successful without devoting very much attention to local SEO ranking factors in the past, that's not the case in 2022.
In addition to showing up on page one of a local search, brick-and-mortar location-based businesses should aim for Google's local three-pack. However, to have your business show up in that coveted spot, you're going to have a solid understanding of local SEO ranking factors and how to implement them for SEO success in 2022.
Add a header to begin generating the table of contents
It Starts with Google
While there are other search engines like Bing, Yahoo, DuckDuckGo and more, Google leads the way in local search. That said, you'll want to start by creating, verifying, or updating your Google My Business (GMB) listing, which will soon be Google Business Profile (GBP). We will explain the name change and all it entails in a minute, but let's first focus on why your GBP is so important.
When someone searches for your business, the first thing they will see is your GBP listing. It should be complete with your name, address, and phone number (NAP), as well as business hours and an overview of your products or services. Google even allows a generous limit of 750 words to create a thorough business description. An incomplete listing will leave potential customers with unanswered questions and have them wondering if yours is truly a reputable business. It will also make a less than stellar impression on Google. The more thorough you are when creating or updating your GBP, the better your chances are of ranking higher in local search.
Your GBP also makes it easier for people to find you by integrating with Google Maps to provide directions to your location. Other GBP features include direct messaging to your business phone or email and customer reviews. The ability to continually update information such as your business hour proved a valuable feature during the recent pandemic. 
Still wondering why Google is changing the name?
The purpose of the rebrand is to move business profile management out of the Google My Business app and directly into Google Search, Google Maps, and those respective apps. With the upcoming retirement of GMB to take place sometime in 2022, GBP will be used primarily by multiple location businesses. Single listing businesses will create or update their Google listing directly through Google Search or Google Maps. As the rebrand continues to evolve, Google says they will "share more details on these changes in the months ahead." Google also plans to introduce some new features with the rebrand. These include call history and messaging done directly through Google Search as well as a performance planner.
Directories and Citations 
Online directories are the modern version of the Yellow Pages, which used to be the best way to find local businesses. That hard copy directory categorized businesses by type rather than alphabetically. An online version of the Yellow Pages still exists, but it is no longer the only game in town. There are now hundreds of online directories, but does your business need to be listed on all of them? The answer is no, but we'll explain why in a minute.
First, let's talk about citations. These are similar to your Google Business Profile. A proper citation includes your NAP (name, address, and phone number) information. It can also include other pertinent business information, such as a business description, hours of operation, driving directions, payment methods accepted, website, images, and more.
So which directories should your business be listed on?
Although Google doesn't recognize all links from other websites to yours as a ranking factor, it does consider a strong "backlink profile" when determining how high a website will rank. Focus on established and trustworthy directories. Of course, there is Google My Business. Other directories worth listing your business on are Bing Places, Yahoo, and Yelp. Your information should be consistent and up-to-date across all the directories. Inconsistencies will confuse Google and potential customers trying to contact your business. Consistent directory listings will help Google to verify and index your business, making it easier to find.
Be aware there are free directories and paid directories. With free directories, stick to those that are considered trustworthy. When it comes to local SEO ranking factors, paying for directory backlinks can have a negative impact on your ranking. Only use paid directories if they have proven to generate traffic for businesses in your industry.
Click-Through Rate 
Google defines the click-through rate (CTR) as the number of clicks that your ad receives divided by your Impressions. Impressions are how many times your ad is shown. If you had 100 impressions but only three clicks, your CTR would be 3%.
Now that you understand how to calculate your click-through rate, you're probably wondering how it affects your local search engine ranking. There seems to be some disagreement among the SEO experts on that topic. Some, like Search Engine Journal, believe that there is no compelling evidence that the click-through rate has any influence on Google or SEO at all. As Google's ranking factors for local SEO aren't clearly defined and continue to evolve, that school of thought makes sense. However, some believe that CTR is one of the behavioral signals Google uses in determining local SEO ranking. Either way, if there is a chance that your CTR can impact your SEO ranking, it's a good idea to pay attention to it.
There is another good reason to be concerned about Your CTR. The higher your CTR is, the more traffic to your website, and isn't that what you want? A survey conducted by BrightLocal revealed that 49% of consumers visit local business websites to find contact details. That's almost half. Whether CTR is a Google ranking factor or not, increasing your website traffic is an important factor in growing your business.
Your local SEO efforts are the best way to put your business in front of the people searching for it. The more people that can find your business, the better the chances are that they will click through to your website, thereby increasing your CTR. To increase your CTR and website traffic, you need to rank high in local search. Let's take a look at the steps you need to take to do that.
Keywords and Content 
Both content and keywords are important SEO ranking factors. While content is considered the "king" when it comes to SEO, keywords are the backbone of that content.
Keywords 
The term keyword refers to a single word or phrase of words used to search for information online. If your keyword or phrase matches those commonly used when people search for a specific product, service, or information, your business will show up for that search. Where you show up depends on the formula Google uses to determine SEO ranking. It is important to use the best possible keywords. Otherwise, your business will be buried so far down in the search no one will ever find it. 
Choosing the Right Keywords
To identify keywords that will give you a fighting chance of showing up on the first page of a Google search, think about how your target audience might search for your business. Make a list of all the possibilities, then search for them yourself. As you type each one into the search bar, see what words and phrases are auto-generated. This can provide you with keywords that aren't on your list. 
The keywords you think are the best may not be what your audience is using when searching for your business. 
Ask customers how they found you. 
If they used Google, ask them what they used as a search inquiry. You may find that many use "near me" or location-based searches. Adding "near me" or the name of your service location or area can improve the effectiveness of relevant keywords.
Now that you have a bunch of keywords, it's time to start narrowing them down. You want to use keywords with a high volume but lower competition. To determine which keywords those are, you will need to use a keyword tool such as keywordtool.io.There are numerous keyword tools available, and some are even free but beware. Most free versions will provide you with a list of keywords, but not the data you need to evaluate their value without upgrading to their paid service. While the paid versions will provide you with the data, you need to know how to use it. 
Although DIY keyword research can help improve your local search ranking, working with an agency that specializes in local SEO is typically your best bet. They not only have professional tools and software at their disposal, but they have the skill and experience to use them to identify the best keywords for your business.  
You will also want to avoid keyword cannibalization. This is when the same keyword appears on more than one page or post on your website. If you use the same keyword on multiple pages or posts, they will compete against each other and hurt your SEO ranking. 
Content
Content is everything on your website – text, videos, graphics, and images. When talking about content and local search rankings, the are three things to keep in mind – keywords, volume, and relevancy:
Keywords 
As previously mentioned, keywords are the backbone of content and should be the starting point for all of the content you create. They should be inserted naturally throughout all of your copy including the title, headers, and body of each page or post. Keywords should also be implemented in video scripts. On the back end of your website, they should be used in the SEO title, meta description, and image alt tags.
Relevance
Your content should be something your audience can relate to and find valuable. It should provide information, answer a question, or solve a problem. More specifically, for SEO, it should answer their search inquiry. Let's say you are introducing a new product that will make a household task easier. Your audience is searching for how that product will benefit them. Will it save time? Will it provide better results? Although you might find the research and development of that product interesting, your audience is only interested in the benefits it will provide.
Volume
When talking about volume in reference to content, more is better. Creating high-quality, relevant content can help to engage visitors and keep them on your website longer. The longer their session is, the better the chances are that they will contact you or make a purchase.
However, visitors to your website aren't the only ones checking out your content. Google uses your content to index your web pages. If your site lacks a sufficient amount of content, Google won't be able to index it and make it highly unlikely that your business to show up in a search at all, much less on page one. 
search strategies that get you noticed
Supercharge Your Local SEO
Bounce Rate 
As we've explained, the purpose of content is twofold. The keywords in the content help visitors find your business and get them to click through to your website. Once they land on your website, the quality of the content should keep them engaged and exploring other pages of your website. Unfortunately, that's not always the case. 
The average time visitors stay on a webpage is less than a minute. If they click through to other pages, visitors tend to scan to find the specific information they need. Your website content must be clear and concise to get their attention. Otherwise, they will quickly move on. Some visitors will click on your site and immediately leave without clicking on another page. This is called a bounce. 
You might not think so, but a high bounce rate can impact SEO. 
Your bounce rate is one of the local search ranking factors. There are a couple of reasons for a high bounce rate. The keywords you use may not be relevant to your business, or your site doesn't have current or relevant content. 
But wait, the whole point of SEO is to show up in a search and get visitors to click through to your website. If they bounce, why is that bad for SEO? A high bounce rate signals to Google that your site isn't relevant or authoritative, which will cause it to rank lower in local search results.
How is the bounce rate determined?
To calculate the bounce rate, you divide the number of single-page visits by the total number of visits to your site. So, if there were a total of 275 visits to your site in a single day and 125 of those bounced, your bounce rate for that day would be 50%. The average bounce rate falls between 41% to 55%, and from 20 % to 40 percent is considered ideal. A bounce rate above 55% is cause for concern. Should your bounce rate fall below 20% or rise above 70%, there is a good chance that something on your site is broken.
User Experience
Content isn't the only thing that can increase the length of time visitors spend on your website. User experience can have a direct effect on how long they linger, but what creates a good user experience? The key factors are:
Useful

– Include features that visitors will find useful, and avoid adding anything unnecessary to your website. Examples of useful features would be customer reviews or a portfolio highlighting previous projects.

Useable –

A useable feature will provide specific information or answer a question. For example, a roofing company may have a roofing calculator. It provides a basic estimate of how much it will cost to have a new roof put on your home. Visitors would fill out a form with pertinent information, submit it, and receive an estimate and the opportunity to schedule an on-site evaluation. Ensure that these types of useable features work properly. Otherwise, they will ruin the user experience.

Findable

– The fewer clicks it takes, and the faster visitors can find what they are looking for, the better user experience they will have. Ease of navigation, page load speed, and responsiveness on all devices including mobile are among the essentials of designing a user-friendly website.

Credible –

Always provide honest and accurate information on your website. It is not unheard of for some businesses to fabricate customer reviews or case studies. Initially, it might look impressive, but if a visitor follows up to find that reviews or case studies are false, you will lose credibility.

Desirable –

It may seem odd that a website can be desirable. However, if a website is popular and makes a good impression on visitors, it is considered to be desirable. A desirable website is built around aesthetics, branding, design, and identity.

Accessible –

This is an essential element to ensure that your website is all-inclusive and accessible to everyone. Creating an accessible user experience demonstrates that you care about all the visitors to your website and want everyone to have a positive user experience. Those individuals with physical handicaps can experience difficulty navigating websites. Adding features like screen readers, magnifiers, and color filters can prevent that from happening on your site.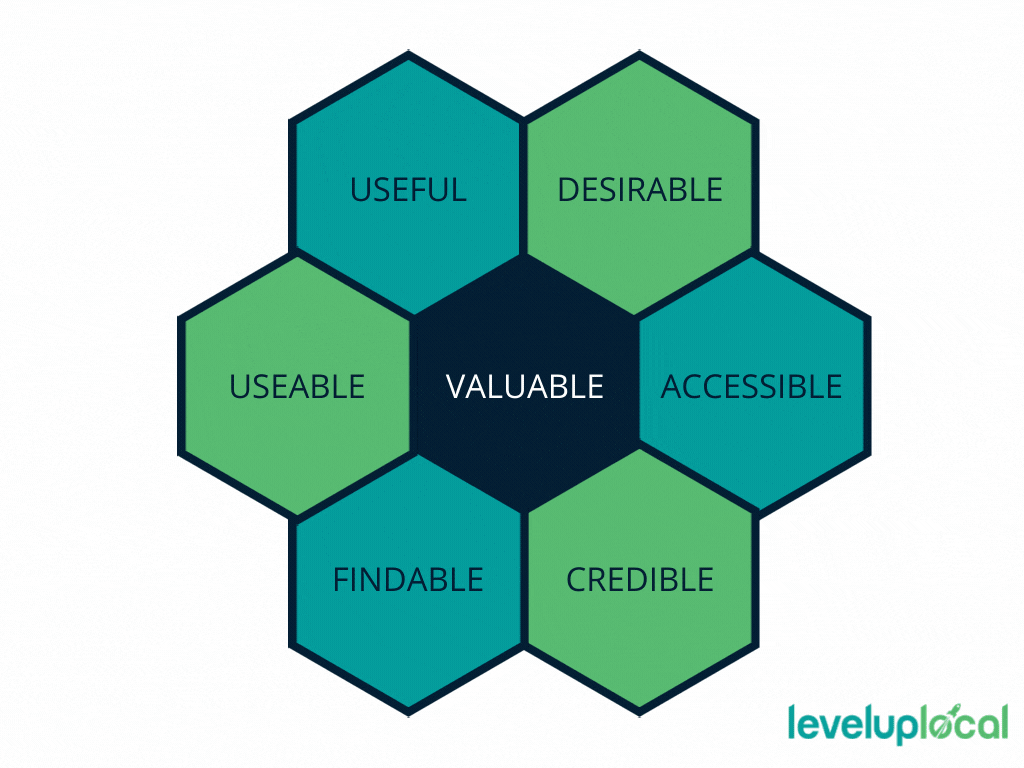 Making sure your website checks all the boxes may make visitors happy. However, making Google happy is another story. In 2020, Google announced that page experience would become an SEO ranking factor and completed the rollout for mobile in August of 2021. At the time of this article, the rollout for desktop has begun and is scheduled to be complete sometime in March 2022. While the user experience factors outlined can impact your bounce rate, those are no longer the only factors to consider:
Core Web Vitals

– These include three main factors: loading performance, input inactivity, and visual stability. All web pages should load in less than 2.5 seconds, and inactivity should be less than 100 milliseconds. Visual stability refers to unexpected layout shifts that cause the page to move on its own, making it difficult to navigate. The CSL (Cumulative Layout Shift) score should be less than 0.1.

Mobile –

More than 55% of global searches are conducted on mobile devices, up from 6% in 2011. Google dominates the market share with 92% of Google searches performed on mobile. While the growth of mobile search has stabilized in the past few years, it will continue to grow. Now a ranking signal for Google, optimizing your website for mobile isn't an option. It is a necessity.

Site Security

– When sharing personal information on your website, visitors want to know the site is secure. Google is now considering evidence of an SSL certificate as an SEO ranking signal. Therefore, the lack of

HTTPS

clearly displayed at the beginning of your website URL could keep your business from showing up on page one and prevent it from being found.

Interstitials

– You know those annoying ads and popups that prevent you from getting the expected page as quickly as you like? Those are interstitials. Google recognizes how they can negatively impact page experience and are now one of Google's ranking signals. 
The importance of page experience as a local SEO ranking factor will continue to evolve as Google plans to incorporate more page experience signals going forward and update them yearly.
Voice Search
A recent Forbes article cited a PWC report that found that 71% of respondents would prefer to use voice search than typing. A Google survey found that for 72% of participants, voice search was a part of their daily life. With numbers like this, optimizing for voice search is vital for SEO. We know what you're thinking.
Why is optimizing for voice search different?
The answer is simple. We talk differently than we text. A text search is very concise and contains only two or three words. A voice search tends to be longer with more detail. This means you need to include long-tail keywords that emulate the way people speak. For example, an individual interested in selling on Etsy may type "selling on Etsy." When conducting a voice search, they may say, "how do I start selling on Etsy."
Long-tail keywords are even more important for eCommerce websites. A company selling sun protective vacation apparel probably won't show up on page one using "vacation apparel" as a keyword. An individual searching for vacation apparel may not even be the right audience for the company. Using long-tail keywords such as "sun protective clothing for the beach" or "vacation apparel with UV protection" will have a higher search intent and put the company's product in front of the audience that is searching for them and is closer to making a purchase. 
Despite the increase in voice assistant devices, mobile devices still dominate voice search. This is due in part to people searching for places and products on the go, using " near me" searches. This makes optimizing for voice search crucial when considering local SEO ranking factors.
FAQs
With the popularity of voice search and its use of longtail keywords, FAQ pages are starting to take their place among local SEO ranking factors. If your website doesn't have an FAQ page, you may want to consider creating one. However, you don't want to fill it with a bunch of random questions about your industry. You need to do research and find out what answers your audience is searching for. In many cases, their questions may be long-tail keywords.  
A properly optimized FAQ page that provides the best possible answers can be beneficial for SEO. Including relevant keywords in the page copy and optimizing meta descriptions and title tags will help to increase the value of your FAQ page with Google. The easier it is for Google to understand and index your website, the better your chance of showing up on page one so users can find you.
Results that put you on the map
Level Up Your Digital Presence
Backlinks and Authority
Google's mission is to provide the best possible results to each search inquiry. Authoritative websites have a higher probability of making it to page one in a Google search. 
Earlier when we talked about online directories, we mentioned that Google considered a strong "backlink profile" as a local SEO ranking factor. It is important to note that the key here is quality, not quantity. There are various ways to acquire backlinks, from using outbound links to creating authoritative copy. Outbound links to authoritative sites can result in that site linking back to yours. High-quality content that addresses your audience's pain points can help position you as an authority in your industry and encourage other sites to link to yours. Writing reviews, testimonials, or guest content for industry suppliers and partners can also help you gain valuable backlinks. 
How is website authority measured? 
Website authority, more commonly known as domain authority, is defined by Moz as a search engine ranking score that predicts how likely a website is to rank in search engine result pages. Moz is responsible for developing the scoring system which rates domain authority on a scale from one to one hundred. Quality backlinks are just one factor among many used to determine domain authority. Machine learning and web indexing are also used. The higher the domain authority score, the better chance of ranking high in Google's search results.
Online Reviews
Online reviews are today's version of word-of-mouth advertising. Google's priority when generating search results is to provide the user with the best possible options to satisfy their search. Positive reviews are an important factor of local SEO, and the more you have – the better!
When dealing with satisfied customers, don't be afraid to ask them to leave a review. Users also place a lot of importance on reviews, and they can have a significant impact on purchasing decisions. 
What if you receive a negative online review?
How you handle a negative review is very important. The author of the review and all those who read it need to know that you acknowledged the issue, offered a sincere apology, and put forth your best effort to make it right. 
However, after the initial acknowledgment, you should take the conversation offline. Invite the customer to contact you directly. Be genuine with your concern and do your best to rectify the issue while assuring the customer that their experience is the exception to the rule, not the normal level of service you provide. 
Once the issue is resolved to their satisfaction, ask the customer if they would be willing to leave an additional review highlighting your attention to the matter. This type of review can demonstrate the value you place on all your customers and minimize the impact of a negative review.
Trying to Make Sense of Local SEO Ranking Factors?
It is often unclear exactly which local SEO ranking factors are a priority on Google's radar and they are constantly evolving. While some factors have a direct impact on SEO, others are indirect, yet still important. Combining all the ranking factors to make sure your site is pleasing to users and Google will help to get you closer to that coveted spot on page one.
Local SEO  is a time-consuming and research-heavy task many business owners don't have the time, the expertise, or the tools to get the job done right. However, it is a task that shouldn't be ignored or left to chance. Working with an agency that specializes in local SEO can help take your business to the next level and provide an excellent return on your investment. Ready to learn more? Let's talk.
Ready to take your business to the next level?