Whether you're an entrepreneur or a seasoned business owner, you have to know that many consumers find and do business with companies as a result of an online search. Some of the most common of these searches are the "near me" search or those which include the user's geographical location. In fact, "near me" searches have increased 900 percent over the last 2 years. The intent behind these searches is to find a local business that provides the products or services they need locally. The keyword here is local. How do you get your business to show up in local search results? That's where local SEO (search engine optimization) comes in.
Local SEO explained at its most basic level is a search engine optimization strategy that helps your business show up in local search results on Google. The ultimate goal is to get on to the first page of local search results (ideally in Google's local 3 pack) as most consumers never get to page two.
Add a header to begin generating the table of contents
Does Your Business Need Local SEO?
If your business has a physical location or serves a specific geographical area, you need a local SEO strategy. Without one, it will be easy for local competitors to outrank you in local searches. That means they will show up before you in a local search and are more likely to get business from that search than you are. Without local SEO, you'll be missing out on opportunities to capture business in the very area you want to serve. 
Where to Start
When local SEO is explained, the importance of showing up on page one of a Google search can't be stressed enough. Research by Hubspot revealed that 75 percent of consumers don't scroll past page one of search results. With that in mind, don't you want to do everything you can to make sure your business shows up on page one? Of course, you do, but you may not be sure where to start. When improving your local SEO, you need to first figure out what you're doing right and what you're doing wrong. The best way to figure that out is to perform a local SEO audit. 
Ready to take your business to the next level?
Google Business Profile 
Local SEO explained begins with Google. The first thing you need to do is make sure your NAP (name, address, and phone number) information and all other pertinent information is correct on your Google Business Profile (formerly Google My Business). You can do this by Googling your business and seeing how it appears in the search results. In addition to NAP, your Google Business Profile (GBP) should also include:
Business hours

Link to your website

Link to directions in Google Maps

Overview of your products or services 

Photos of your business

Customer reviews

Mobile friendly click-to-call button
It is important to keep your GBP up-to-date. If your hours change because of the season or holidays, or you move to a new location, be sure those changes are reflected on your GBP. Inaccurate or incomplete information will not only make it difficult for potential customers to find you, but it will also cause Google to view your business as less trustworthy. Google's goal is to provide users with the best options in its search results. A business without complete information will find itself on page 2 or beyond in the search results. 
A side note: Google My Business will be retired sometime in 2022. A business profile can be created in GBP, however business profile management will be done directly into Google Search, Google Maps, and those respective apps.
Google Search Console
The search console is a Google tool that helps you see how your website is performing, but it does more than that. One of the most important pieces of information you can get from the search console is Google's ability to crawl and index your site. Google uses web crawlers to copy website pages. The pages are then processed and indexed by a search engine. This allows the search engine to provide better results when a user search is conducted.
To get started with Google Search Console, you will need to verify your website. There are multiple verifications methods available, and Google Search Console Help can help you determine which would be easiest for your business and walk you through the process.
Once your site is verified, you will have access to the following reports:
The Index Coverage report

-This report will show you which of your website pages were indexed and which were not. This will allow you to focus on fixing issues with the pages that weren't indexed.

The Mobile Usability report

– This report will alert you to any issues with user experience on mobile devices and take the necessary steps to correct them.



The Search Performance report

– This report gives you a clear picture of how much traffic is coming from Google Search. It will provide a breakdown of that traffic by queries, pages, and countries. Ir will also show trends for impressions, clicks, and other metrics for each category.
You may also want to submit a site map to Google through the search console. Although Google may discover your site without one, submitting a site map can accelerate the discovery and subsequent crawling and indexing process which may have you showing up in searches sooner.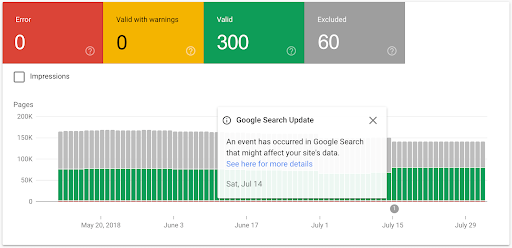 On-Page SEO Audit
When talking about on-page SEO, we are referring to the elements on each page of your website that impact both the user experience and the crawlability and indexing by Google and other search engines. These elements need to be optimized and include:
Content

– Your website should have informative content that provides users with the information they want. The content should be high quality, provide value, be relevant and current, and there should be plenty of it. This will give search engines sufficient information for indexing.



Headlines and headers

– These are an important yet often overlooked aspect of on-page SEO.

 Both headlines and headers benefit users and search engines.

They help Google recognize your content and make it easier for users to scan as most individuals don't read an entire page of content.

Image optimization

– This involves using high-quality images. They should be the proper size, format, and resolution to improve user experience and increase engagement. Images should be accurately labeled, allowing web crawlers to read them and better understand the page context. Optimizing your images will also improve your chances of ranking in an image search.

Title tags

–  These are the page titles users see in search results. In addition to encouraging click-throughs and potential engagement, title tags also label the page, making it easier for search engines to understand what each of your website pages is about.

Meta descriptions

–

These are brief descriptions that follow the title tag in a search. It gives the user enough information to determine if the page will provide the information they need.

Structured data –

This is the process of turning your content into code, thereby turning unstructured data such as video, images, podcasts, and PDFs into structured data.  Schema.org is commonly used to convert your content into a language that makes it easier for search engines to read and understand. This allows search engines to provide richer results.
Citation Audit
Citations are necessary for your business to appear in search results and are basically your NAP information. A citation audit is the process of making sure your NAP information is correct and consistent across all platforms and online directories. In addition to making it difficult for users to find your business, inconsistent information will cause Google's algorithm to view your business as less than reputable business. Consistent information signals to search engines that your business is verified and trustworthy, making it more likely to show up in local search results 
Does this mean you have to spend hours reviewing all your citations to make sure they are correct? 
No. There are multiple software applications to assist you with this type of audit. Some are free,  but to get the most thorough audit, you would need to invest in paid versions of the software or hire an SEO agency to perform the audit for you. The latter is typically the best option as an agency has a variety of tools and the skill to analyze the information and deliver professional local SEO optimization.
Competitor Analysis
To stay one step ahead of them, you need to know what your competitors are doing and find a way to do it better. That's where competitor analysis comes in. It will reveal your competitors' strengths and weaknesses, giving you a clear picture of what you need to do to improve your local search ranking and gain a competitive edge. 
Identify your competitors

– When researching competitors you may be surprised to find out they are not who you thought. You may have competitors that aren't an exact match for your industry, however, they specialize in a specific aspect of it.
For example, let's say you own a shoe store and you carry everything from high heels and work boots in every size and width. There's a men's store across town that specializes in big and tall sizes, as well as large size and wide-width men's footwear. At first glance, you may not have thought they were a competitor, but have you been wondering why most of your wide-width shoes are still on the shelf? 
Keywords gaps

–

This is the process of identifying keywords your competitors are ranking for, you are not, and why. They may have more high-quality content focusing on those keywords or authoritative backlinks to that content. Whatever the reason, your research will show you how to close the gap.

 

Popular pages

– When doing competitor research, you also want to see which pages on your competitors' websites get the most traffic.  This is a clear signal that the information on those pages is what users are searching for. You may need to improve your existing pages or create new ones to compete. 

Backlinks and domain authority

– According to Moz, the company that created the domain authority rating system, "Domain Authority is calculated by evaluating multiple factors, including linking root domains and the total number of links, into a single DA score. This score can then be used when comparing websites or tracking the 'ranking strength' of a website over time." 
Linking root domains are the websites your backlinks are coming from, and backlinks are links on other sites that link back to yours. High-quality backlinks from authoritative sites can increase your domain authority. While domain authority is not a Google ranking factor, a high authority score signifies an authoritative and reputable website. As Google's goal is to provide users with the best possible search results, it stands to reason that websites with a higher domain authority will be more likely to show up on page one of Google's search results. 
Content –

We have already determined that high-quality, authoritative content is important to remain competitive, but what about the different types of content? What kind of blogs are your competitors writing? Informational? How-to blogs? You are competing for the same audience, so whatever type of blog is resinating their users, that's the type you want to focus on.




Are your competitors using infographics, videos, and podcasts in addition to traditional blogging? If so, which type of content is getting the most traffic or shares on social media? Which is ranking better for them. If your competitor's podcast only got a few views, but their videos are blowing up on YouTube, then you'll want to consider including video in your content and skip the podcast.

Website audit –

Auditing your website will allow you to evaluate how well optimized it is and what you can do to increase its performance. You can start by using a website audit tool such as Creative Click Media's

Free SEO Checker

. Audit tools can help you:

Evaluate your website's technical performance

Identify missed SEO opportunities or failed strategies

Assess your website's effectiveness for lead generation and conversions

Gain competitor insights

Identify any other issues that are impacting your site's performance and SEO
A thorough website audit can provide you with a checklist of issues you need to address and develop a plan to fix them. 
RESULTS THAT PUT YOUR BUSINESS ON THE MAP
Level Up Your Digital Presence
Strengthen Your Internal Linking Structure
We've talked about backlinks and how they can increase your authority, but what about your internal links? These are links that connect one page to another on your site. Users and search engines use these links to navigate your site and locate information. For indexing purposes, these links help Google understand which pages are the most important and what they are about.
To increase your internal links, you need to have plenty of content. If your website is light on content or you're not adding new content regularly, there won't be much to link to. You should avoid linking to your homepage too often. It is more beneficial to increase and optimize the content on internal pages. 
Another common mistake is continually linking to the contact page. It is best to avoid linking to pages that are easily found on the navigation menu. Link to pages deeper in your site, such as a specific blog that wouldn't be found on the navigation menu. Make sure that the pages you are linking to each other are relevant and add value.
Optimization
When local SEO is explained, optimization can be overlooked. Optimize every aspect of your site – the URL, title tags, headers, meta description, and content. Each of these should contain the keyword for that page. While image alt tags should explain what the image is about, that explanation should contain some variation of your keyword. There are numerous plugins that can guide you through improving your page optimization, such as Yoast. This particular plugin gives you in-depth information as to what you've done correctly, which areas could be improved and how to go about it.
Location Pages
If your business has more than one location, location pages are the way to go. These are pages not listed on the navigation menu. They are landing pages a user is directed to as the result of a local search. For example, a t-shirt business with 3 locations in New Jersey – Long Beach Island, Ocean City, and Atlantic City – should have a location page for each one. When someone searches for t-shirts in Atlantic City, the landing page for Atlantic City would appear in the search results rather than the home page. That location page would provide the overall information and link to relevant pages on your site as well as a link to your contact page. The content on each location page should be unique to avoid being flagged by Google for duplicate content. 
With Local SEO Explained, Are You Ready to Tackle It?
Now that you understand how important local SEO is, you may want to rethink your current strategy. Effective SEO takes time and most business owners have little to spare. Not to worry. When it comes to local SEO, we've got you covered. Let the SEO professionals at Level Up Local handle it for you so you can focus on taking care of business.
Search Strategies that Get You Noticed
Supercharge Your Local SEO