Are your SEO efforts less than successful in attracting the local consumers you want to serve? The goal is to capture a spot on page one in as many "near me" searches as possible. Many business owners think that thoroughly completing their Google Business Profile (GBP) is a one-and-done local SEO tactic. However, it takes more than that to get Google's attention and show up on page one where people can find you. While local SEO does employ many of the same tactics, a local on page SEO strategy is vital to make an appearance in a local search.
Add a header to begin generating the table of contents
What is On Page SEO?

On page SEO is the practice of optimizing individual web pages to rank higher and earn more relevant traffic. On page refers to the content and HTML source code, as opposed to off page SEO, which refers to links or other external signals. The content is all the text, images, and video on your site, but we'll get back to that in a minute.
The HTML source code refers to a website's programming and is essentially its foundation. The source code determines how the website is formatted and allows you to define headlines, paragraphs, or highlights. To view the HTML source code on a web page, you can right-click on the page and then click  "view page source". However, unless you can code you will probably just be overwhelmed.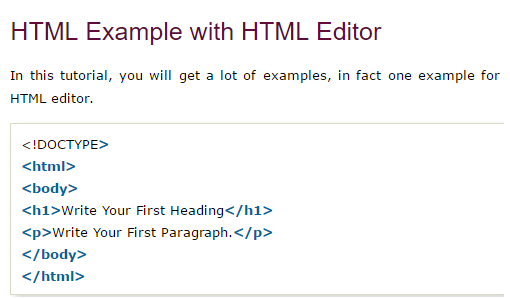 Identifying bad code in your website's HTML can be difficult for the layman who doesn't know what to look for. In some cases, your site will fail to function properly, and you will receive an error message or code. If you think there might be a problem with your site's source code, it's a good idea to have it audited by SEO professionals to identify the issue and correct it.
Let's circle back to the content. When given a search query, Google reviews the content on your and other sites to find content that best answers that query. According to Google:
"The most basic signal that information is relevant is when a webpage contains the same keywords as your search query. If those keywords appear on the page, or if they appear in the headings or body of the text, the information is more likely to be relevant. Beyond simple keyword matching, we use aggregated and anonymized interaction data to assess whether search results are relevant to queries. We transform that data into signals that help our machine-learned systems better estimate relevance".
While it is true that keywords are a significant factor for SEO, the importance of using them properly should not be underestimated. We will explain how the correct usage of keywords works in conjunction with other local SEO factors, but first, let's start with the basics.
Ready to take your business to the next level?
Make Sure Your NAP Is Consistent

If you are familiar with SEO, you may already know what  NAP is, but it bears repeating. NAP is your business name, address, and phone number. To optimize your website for local SEO, it should be displayed on every page. It is a common practice to include NAP information in the footer as this section is consistent on each page of the website. It can also be included in the text on the contact or service area pages.
You want to make sure NAP information is correct and consistent throughout your site and across all your directory listings. NAP inconsistencies will confuse consumers about how to contact you and make it difficult for Google to locate you. Even if Google does find you, the inconsistencies could signal that your business isn't reputable, and you won't gain a prominent position in local search. 
Using abbreviations like "St." for street or "Blvd" for boulevard is fine as long as it is the same on every platform. Consistency is key.
Be the Local Authority

Your content should provide consumers with the information they find valuable. To do that, you need to think as they do.
What benefits do your products or services provide? Do they solve a problem or make a task easier? What questions are users asking when searching for a local business in your industry? Content addressing their pain points will establish your business as an authority, but for local on page SEO, that's not enough. 
The goal is to be the LOCAL authority. In addition to using the right keywords, your content needs to grab the attention of "near me" or geographically specific searches.  When providing local search results, Google selects authoritative businesses located in and around a user's location. 
To improve your local on page SEO, you should include not only your location, but also local landmarks, and even local lingo. For example, residents of Long Beach Island, New Jersey refer to the island as LBI. Using local terminology will solidify that you are local and intimately familiar with the area. This approach can be extremely beneficial in attracting those individuals who believe in keeping it local when it comes to doing business. However, if you aren't a lifelong native of the service area you want to target, be sure to do your research. If any of your local references are incorrect, it can hurt your authority with area residents and send them to one of your competitors.
Create Location Pages

Most local businesses have a location-based service page, but location pages also referred to as location landing pages, take your local on-page SEO efforts one step further. A location page is a stand-alone page that features all of your pertinent business information and the products or services you offer in a specific area.
Let's revisit our example location of LBI. The Jersey Shore island is 18 miles long and is home to six small towns. If you owned a landscaping business that served all the communities on LBI, creating a hyper-focused location page for each town could give your local SEO a significant boost. 
However, creating a location page for each town doesn't automatically mean you'll show up on page one in local search results for any of them. These pages have to be optimized carefully, or they could have the opposite effect. 
Optimize your location pages the same way you optimize the rest of your website pages. This includes keywords, content length, content quality, links, meta descriptions, alt tags, and anything else Google's algorithm takes into consideration. Your content should be relevant, useful, and unique. You should not put identical content on each page and just swap out town names. 
The content on each page should be different. Otherwise, it can diminish user experience, create inefficient crawling by Google bots or cause your location pages to be grouped into a cluster by Google. If clustered, Google will typically pick the page it considers the most relevant to include in search results. In this case, five of the six location pages for the landscaping business will be buried and be of little benefit. Duplication can also dilute the strength of the content's ranking signals.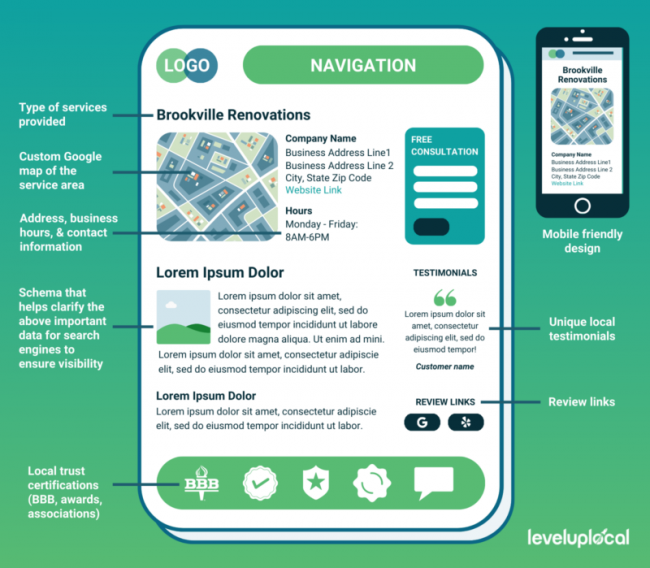 results that put you on the map
Level Up Your Digital Presence
Optimize Your Header Tags

There has been much debate over whether or not header tags are a ranking factor. However, the general consensus is that headers are a ranking factor, and optimizing them can help provide a better user experience. When optimizing for local on page SEO, header tags are often overlooked.
Headers help Google understand what the page is about, who the target audience is and why it may or may not be the best result for a particular search. Of course, user experience should be the primary goal for all your content, including headers. Optimization can improve user experience by allowing visitors to scan and quickly find the information they were searching for. 
Headers also help Google understand what the page is about, who the target audience is and why it may or may not be the best result for a particular search. Of course, user experience should be the primary goal for all your content, including headers. Optimizing them can improve user experience by allowing visitors to scan and quickly find the information they were searching for. 
The key to optimizing your headers is to follow the same guidelines you would with the rest of your content. Insert keywords and phrases where they fit naturally. Make sure your headers clearly indicate the information contained in the content and avoid keyword stuffing. 
When SEO began back in the 1990s, keyword stuffing was a commonly used tactic to improve ranking. Today that is no longer the case and hasn't been for quite some time. Back in 2003, when Google rolled out one of its first major algorithm updates, the Florida update. While this algorithm didn't specifically target keyword stuffing, it had a minor impact on websites using questionable methods to improve SEO. In February 2011, Google introduced the Panda algorithm with subsequent updates throughout the year, which caused sites with thin or low-quality content to see their ranking drop. Keyword stuffed sites fell into this category as their main goal was to rank, not provide value.
Include Internal Links

Internal linking is crucial to establishing a strong site structure and an important element in any SEO strategy. It provides ease of navigation and a positive user experience. It also helps Google to index your site. Internal links make it easier for Google to understand the relationship between your website pages. The more links leading to a page is a signal to Google that it contains high-quality valuable content.
We've already talked about how including town names in your website is important when optimizing for local on page SEO. You can take it one step further by making those names link to your service area or location pages. This will provide users with the location-specific information to help them determine if your business is the right fit for their needs. 
Schema Markup for Local Business

Schema Markup was developed by four of the largest search engine companies (Google, Bing, Yahoo, and Yandex). Google defines it as "a standardized format for providing information about a page and classifying the page content." 
Basically, it is a code that translates the content on a website to make it easier for search engines to understand what the site is about. This includes vital business information such as location, hours of operation, payments accepted, products or services offered, and more.
There are different schema plugins. Local business schema would be the most beneficial for local on page SEO. When added to your website, schema gathers all the vital business information from your site to create an enhanced description to present in search results. This is known as a rich snippet and includes additional information, making the search results more valuable to the user. While schema is not a direct ranking factor, the more information Google can provide, the better your chances of ranking higher in search results.
There is also FAQ page schema. This includes commonly asked questions and answers right in the search results, making the search results even more valuable. It is not necessary or recommended to have schema on every page. For instance, you would use local business schema on your home page and FAQ schema on your about or FAQ page. 
Local On Page SEO Made Simple

The best way to do this is to leave it to the professionals at Level Up Local. Our name says it all. Our team will handle all these local on page SEO optimization tasks and more to improve your ranking in local search results. We combine proven local SEO strategies with out-of-the-box solutions to put your business in front of the local audience searching for the products or services you offer. Ready to find out how we can boost your local SEO? Contact us today!
Strategies that get you noticed
Supercharge Your Local SEO