It happens. You've had your Google Business Profile for years. You've been through every iteration from Google My Business to Google Places and even Google+ Local, but there it is. Your Google Business Profile is suspended. As you try to wrap your head around it, panic sets in. How will anyone be able to find your business? With your Google Business Profile suspended, you won't show up in local search results.
Then, of course, there is the million-dollar question. 
What did you do wrong?
Knowingly or unknowingly, you may have been doing it for a long time but managed to fly under the radar until now. Either the error of your ways finally caught Google's attention, or a competitor reported you. Whatever the reason, you need to figure out what you did to get your Google Business Profile suspended. Let's see if we can help.
Add a header to begin generating the table of contents
Reason #1: You Missed an Update
Google has very specific guidelines for representing your business on Google. They have to be followed to avoid suspension, and those guidelines are continually updated. It's important to review them regularly to make sure you are still in compliance. What was acceptable before an update may now cause your profile to be suspended. 
Reason #2: You Made Changes to Your Profile
If you made changes right before your Google Business Profile was suspended, one or more of those changes could be the culprit. If you haven't reviewed the guidelines recently, your changes may violate the guidelines. Multiple changes can send up a red flag for Google. You should first check to make sure all your changes comply with the guidelines. 
If you haven't made any changes and did nothing wrong, your business profile may have fallen victim to a suspension sweep. This is when Google targets an industry or industries known to engage in spammy tactics. 
If you are in compliance or believe your business got caught up in a sweep, you can submit a request to Google to reinstate your profile. We will discuss how to do this later.
Reason #3: Guilt by Association
If your business' industry has a reputation for using questionable methods to optimize their profile, you may be subject to heavy scrutiny by Google. Even a minor violation of their guidelines could result in your Google business profile being suspended. Here are some of the business categories Google views as suspect:
HVAC contractors

Insurance agents

Plumbers

Landscapers

Lawyers

Locksmiths

Pest control

Realtors

Rehabilitation facilities

Tree pruning

Tree planting
Always be careful to follow and stay up-to-date on Google's guidelines. However, if your business falls into any of these categories, metaphorically speaking, you could have a target on your back. 
Some businesses will try to include additional keywords in their business name to increase their ranking in search engine results. Google frowns on keyword stuffing no matter where it's done, but keyword stuffing your business name will get your Google Business Profile suspended. 
According to Google "Your name should reflect your business's real-world name, as used consistently on your storefront, website, stationery, and as known to customers." So, avoid keyword stuffing and just stick with your business name.
While some businesses may have gotten away with this in the past, Google's recent local search update, nicknamed "Vicinity" could help put an end to this practice. It may be too early to tell just how much of an impact Vicinity will have, however, some SEO experts have reported seeing a significant drop in ranking for keyword-stuffed businesses.
Reason #4: Using a PO Box or Other Remote Address
To be eligible for Google Business Profile, your business must be local and have either a brick and mortar location customers can visit or provide products or services at their location. Yet, some remote businesses that use a PO box or virtual office still manage to create a profile. Eventually, Google will catch up with them, and their Google Business Profile will get suspended. 
Co-working or shared working spaces are typically considered ineligible for a Google Business profile, with some exceptions. According to Google, a co-working or shared space isn't a legitimate business address unless a dedicated space is rented. There must be a permanent sign that directs customers to the business, and it must be staffed by the employee of that specific business during business hours. That isn't the case in most co-working or shared space situations. 
Reason #5: Service Area Businesses
A service area business is one where the customers don't come to you, you go to them, which means they don't need an address or driving directions.
While Google does permit some local service area businesses to have a Google Business Profile, they don't allow them to display their address. The requirements to have a profile are similar to those for a co-working or shared office space. The business must have a storefront, permanent signage and be staffed during business hours.
Those are just the basics for service area businesses. Be sure to review and understand all of the guidelines for representing your business on Google. An eligible service-based business can still have its Google Business Profile suspended if they don't adhere to all the applicable guidelines.
Reason #6: eCommerce Business 
Google Business Profiles is for local businesses. Online only businesses that do business across the county or around the world are not eligible. Using a fake or virtual local address to establish a profile may work for a while, but this tactic will eventually get your Google Business Profile suspended.
Ready to take your business to the next level?
Your Profile Has Been Suspended. What Now?
First, figure out why your Google Business Profile was suspended. Review the guidelines thoroughly and Google's policy on Prohibited and Restricted Content. If you have determined that your business is eligible for a Google Business Profile, and believe that you have complied with all the guidelines, you can request that your profile be reinstated.
Submit your request using Google's form. It asks questions about your business, revealing them one by one. If any of your answers demonstrate non-compliance, the questions will stop, and you will see a notice of ineligibility, like the one below.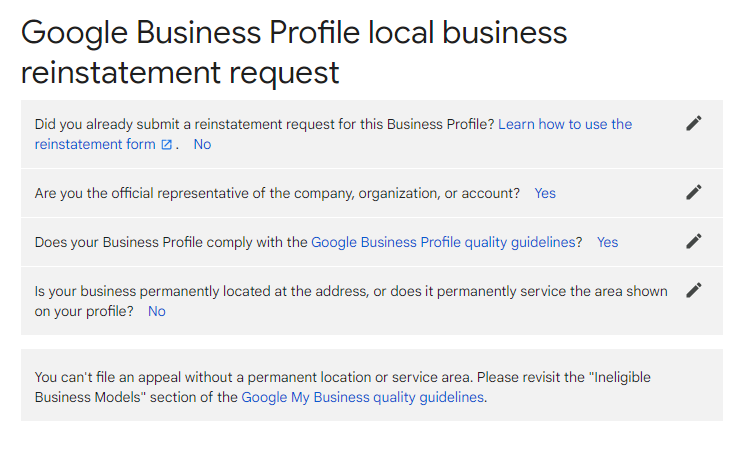 This is just one example. If you make it through the questions without receiving a notice of ineligibility, you will be prompted to submit a reinstatement request.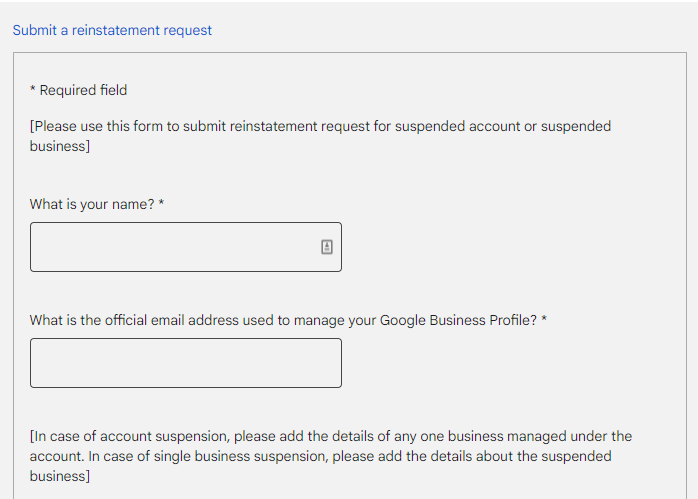 Complete the form with all the information requested and click the "Submit" button.

Most reinstatement requests are reviewed, investigated, and resolved in 3 business days.  If your request is denied, and you believe the denial is an error, you can appeal. To submit an appeal, reply to Google's email notifying you of the denial with pictures of the front of the store and a summary of business operations. When a profile is suspended, the public won't be able to view it, and the business owner or manager will not be able to act on it. All locations associated with the business will also be removed. If the profile is reinstated, everything will be restored.
RESULTS THAT PUT YOU ON THE MAP
Level Up Your Digital Presence
Keep in mind that these are just some of the most common reasons for your profile to be suspended. Navigating all of Google's guidelines for a business profile can be confusing. However, for local businesses that qualify, a Google Business Profile is a vital element to have in your SEO toolbox. If your profile is suspended or you haven't created one, we can help. We will determine if your business is eligible for a profile and help you create a profile that won't be subject to suspension.
If you've been trying to take your business to the next level without much success, Level Up Local is the perfect solution. We can help you navigate Google's guidelines and all the other elements necessary to elevate your local SEO ranking. Providing small to mid-sized businesses with local SEO services that have a big business impact is our specialty. Contact us today to discuss how we can put your business on the map!
STRATEGIES THAT GET YOU NOTICED
Supercharge Your Local SEO